Cheap travel/small screening projector
LED bulbs, cheap lithium battery's and high power USB charging have changed what a projector is. Its now easily possible to have a full cinematic experience in your pocket and run it for hours on very cheap USB battery's. The days of expensive, power hungry and fragile projectors are over for all but the most demanding permanent set-ups. The are hundreds of these "micro" projectors available, they vary in quality a lot, here is a review of a good one.
If your looking for a very cheap travel/small screening projector I can recommend this one
ECsee-ES130-Mini-DLP-Projector
Tiny, relatively well made, lots of ports and did I say very cheap.
LED bulb so robust long life and low power.
Plays videos from HDMI, USB thumb drive, micro SD card in many formats (it will not play surround sound audio files). As with many embedded playback devices it can get the aspect ratio wrong this is a normal problem. Will work fine by HDMI with image and sound from a laptop etc.
Used it at a recent all night illegal rave party under a railway bridge to provide background images, plunged into a small USB battery (5000mah) it easily lasted the night on loop.
Fits in your pocket and has a built in battery which last 1-2 hours, charges/runs off standard USB up to 2amps.
Its no were near its rated 800 lumen, more like 50-100 which is normal for a projector this size. You would have to pay something like £500 for a 500 lumen LED projector. Its brighter and the sound is louder if you plug it into a 2amp USB battery/power supply rather than run it off its internal battery.
Sound might be an issue when running on mains power due to hum.
In darkness it creates a large bright (somewhat over saturated) image, like all micro projectors it will struggle to overcome ambient light.
Specification:
Display Type

DLP

Technology
Resolution
854x480
Highest resolution supported
1080p (this is acturly only 854x480 and will be dowen scaled)

Brightness

800 Lumens (this is not true)

Contrast
800:1
Aspect Ratio
4:3 ,16:9

Built-in battery

3.7V 1500 mA

Focusing Manner
Manual Focus,F=125
Image Size
14 to 150 Inches
Projection Distance
35.5cm-430cm(short throw)
Lamp
LED Lamp
Power consumption
10W Max
Speakers
8Ω1W
Lamp Life
20,000 Hours
Interfaces
HDMI/USB/AV/SD/3.5mm earphone jack
Supported Video Format
3GP(H263, MPEG4) / AVI(XVID, DIVX, H264) / MKV(XVID, DIVX, H264) / FLV(flv1) /
MOV(H264) / MP4(MPEG4,AVC) / MPG(MPEG1) / VOB(MPEG2) / RMVB(RV40)
Supported Audio Format
MP3 / WMA / ASF / OGG / AAC / WAV
Supported Picture Format
JPG / PNG / BMP
Supported Document Format
TXT
Color
Green, White
Dimensions
78*71*24.5mm (L x W x D)
Weight
130g
Have been testing it for a week, so far I would say a buy.
7/10 value for money
Review of Goalzero adventure pack - Solar power
UPDATE: they sent a replacement panel and battery pack and am awaiting a bag to send back the old ones so they can test them. Good company.
Nomad 7 (7 watts) Solar Panel and Guide 10 Plus battery pack
This is a high power 5V usb solar charger that works as well as plugging your phone into the wall in good sunlight. With 1 amp of power it will efferently charge all but the latest huge phones such as the note II which it dose struggle a bit at.
An excellent products that I have been using for the last 2 years. In that time with about 9 months of hard use both parts of the set-up have finely failed.
It had been well used in over 7 country's and over the summer of its failer was used for 6 months In Poland, Slovakia, Crimea before finaliey failing on a 2 month trip to the Canary islands.
The Guide10plus battery pack melted the plastic rappers off a set of Mignon Hybrid NiMH AA 2100mAh battery's. They were finger burning hot, then with a fresh set of battery's it gives off pungent white smoke from one of the internal components and dose not charge or function.
The panel failed at the same time, this time the failer was less final. Originally the panel worked fine in a good sunny position it could could charge 3 devises in a day with power to spare.
Now it is lucky to ¼ to half charge a devices in a days good sunshine. I think an internal cable may have broken if goalzero don't come back with a solution might try to cut the fabric open and examine each join to check this. Both products had exposer to due and some light rain in north Europe in the south Europe the was a lot of fine blowing sand and volcanic dust. The panel had the cover folded back which might have stressed the internal cables? Neither had any "abuse" beyond normal hard use.
To sum up the products are excellent but not indestructible and am now reaching out to the manufacturer golazero to get feedback on what might have coursed both components to fail at the same time. Watch this space for a reply.
Mobile Solar power for a laptop
Am thinking about running a workshop on portable solar power.
This is 32w folding solar panel with a battery pass through DC to DC transformer and 13' video editing laptop running adobe CS.
All Folds up and fits in a laptop bag.
The solar costs £200-250 and you need a relatively expensive ultra book with 3D graphics card to do CS editing. Portable solar will struggle to power a full sized editing laptop. Total cost just over £1000
Offgride travel with Small Solar Power
If you are taking your small USB powered devices off grid for a week or so then you will need a way to keep them powered up. In this review I look at 2 small folding solar panels. Both will charge a "dumb phone" or a normal smart phone and can charge larger phones or tablets for occasional use.
We have the Goalzero Nomad 7 from the USA and the smaller and cheaper UK based Bimbalesolar panel (A badged china import)
Both have approximately the same power output but the is a large price difference. The Slightly lower powered Bimble panel (6W) is a few years newer than the US panel (7W) thus smaller due to the use of 20% efficient cells compared to 17% for the older panel
The Nomad 7 has a light wait plastic regulator/plug box and has both USB and a 12v output (3-4W) which could be useful for trickle charging lead acid 12v battery's. But not much everyday use for this function.
Weight: 16.2 oz (460 g)
Dimensions (unfolded): 9 x 1.5 x 17 in (22.9 x 3.8 x 43.2 cm)
Dimensions (folded): 9 x 1.5 x 6.5 in (22.9 x 3.8 x 16.5 cm)
The Cheaper panel has a heavy folded metal box.
Extend Size: 200 x 400 x 20mm
Folded Size: 200 x 155 x 26mm
Weight: 250g
Is the size and large price diffrence worth it?
The build quality of the Goalzero panel is excellent, with custom components throughout, and it will likely survive for longer with hard use. While the Bimblesolar panel has good build quality and will like survive OK. The cheaper panel might prove to be easer to repair if it fails as it is made with standard components. Both will work fine to charge your small USB device.
On balance the price, and to a lesser extent the size differences makes the Bimblesolar panel the clear winner between the two.
How to use:
If you can turn your device off to charge it as this will reduce charging time. (some devices will not turn off while pluged in such as iphone's)
Use a power pass through USB battery pack to store power while your charging your devices. You must look hard for "power pass though" and pay slightly more for this feature.
Keep your expensive electronics dry, cool, in the shade and out of site.
Take care of your USB cables as they are fragile. If you can use the cable that the device came with as each cable is actually different and can alter charging times. Shorter cabals are better than longer cables in general.
Portable renewable power technology?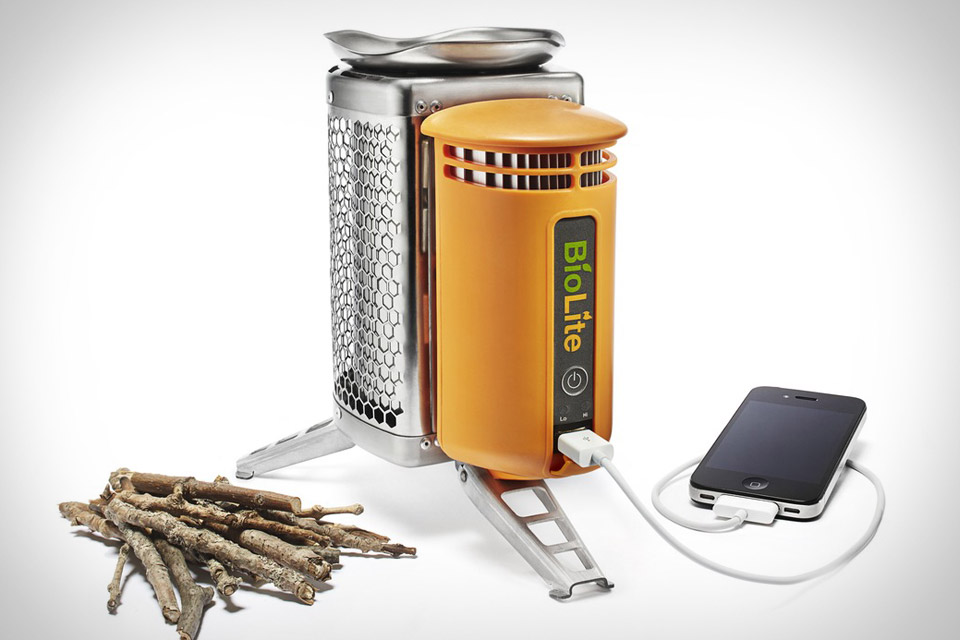 "The BioLite CampStove, designed for outdoor adventure and emergency preparedness, makes cooking on wood as clean, safe and easy as petroleum fuels while powering electronics off-grid."
I love tec like this, clever idea made real BUT it takes around 5 minutes to boil 1 liter of water and and will take something like 3 hours to charge a smart phone by USB, so you need to boil over 30 liters of water to charge one iphone - thats a lot of tea...
Find out more