Shadow Foreign Secretary Hilary Benn's speech in the House of Commons in favour of bombing Syria has been praised as much by conservative opponents as by his allies. As Sam Kriss said today in Vice magazine: "The reviews are pouring in, as if this were a West End musical instead of the overture to a massacre. "Truly spellbinding", the Spectator gushes. "Fizzing with eloquence", gurgles the Times. "Electric", gloops the Guardian. The Telegraph's Dan Hodges, who can reliably be called upon to provide the worst possible opinion at any given time, goes further. "He did not look like the leader of the opposition," he writes. "He looked like the prime minister.""

The Spectator magazine went so far as to publish the full text for us to ogle at. Here is my quick dissection of his scandalous, tub-thumping, murderous imperialist rhetoric.

BENN: Thank you very much Mr Speaker. Before I respond to the debate.... (CUT patronising encomium to Jeremy Corbyn)
Now Mr Speaker, we have had an intense and impassioned debate and rightly so, given the clear and present threat from Daesh, the gravity of the decision that rests upon the shoulders and the conscience of every single one of us and the lives we hold in our hands tonight.

RH: And as his master Mr Blair would have said: we feel the hand of history on those same shoulders that reach down to those oh so conscious hands. But at least Blair had a bit of self-awareness, and prefaced it by saying "now is not the time for cliches").

BENN: And whatever decision we reach, I hope we will treat one another with respect.

RH: Because when you're discussing whether we should dice up kids with shrapnel, the most important thing is to be polite.

(CUT... complimenting a long list of other people who made speeches - who does he think he is, the PM? Oh. I see now!)

BENN: The question which confronts us in a very, very complex conflict is at its heart very simple. What should we do with others to confront this threat to our citizens, our nation, other nations and the people who suffer under the yoke, the cruel yoke, of Daesh? The carnage in Paris brought home to us the clear and present danger we face from them. It could have just as easily been London, or Glasgow, or Leeds or Birmingham and it could still be. And I believe that we have a moral and a practical duty to extend the action we are already taking in Iraq to Syria. And I am also clear, and I say this to my colleagues, that the conditions set out in the emergency resolution passed at the Labour party conference in September have been met.

RH: They definitely haven't. Conditions 1 and 2 have not been met, and with conditions 3 and 4 it is too early to tell.

BENN: We now have a clear and unambiguous UN Security Council Resolution 2249, paragraph 5 of which specifically calls on member states to take all necessary measures to redouble and co-ordinate their efforts to prevent and suppress terrorist acts committed specifically by Isil, and to eradicate the safe haven they have established over significant parts of Iraq and Syria.
So the United Nations is asking us to do something. It is asking us to do something now. It is asking us to act in Syria as well as in Iraq. And it was a Labour government that helped to found the United Nations at the end of the Second World War. And why did we do so? Because we wanted the nations of the world, working together, to deal with threats to international peace and security – and Daesh is unquestionably that.
So given that the United Nations has passed this resolution, given that such action would be lawful under Article 51 of the UN Charter – because every state has the right to defend itself – why would we not uphold the settled will of the United Nations, particularly when there is such support from within the region including from Iraq. We are part of a coalition of over 60 countries, standing together shoulder-to-shoulder to oppose their ideology and their brutality.

RH: This is a highly complex legal area, and while it is a "clear and unambiguous" call to take action against ISIL/Daesh, Resolution 2249 does not invoke Chapter 7, which mandates military action. Some lawyers believe the self-defence argument, used repeatedly by Benn, can only be used if there is a real and imminent threat, not merely an intention or an unspecified threat some time in the future.

BENN: Now Mr Speaker, all of us understand the importance of bringing an end to the Syrian civil war and there is now some progress on a peace plan because of the Vienna talks. They are the best hope we have of achieving a cease-fire. That would bring an end to Assad's bombing, leading to a transitional government and elections. And why is that vital? Both because it will help in the defeat of Daesh, and because it would enable millions of Syrians, who have been forced to flee, to do what every refugee dreams of: they just want to be able to go home.
Now Mr Speaker, no-one in this debate doubts the deadly serious threat we face from Daesh and what they do, although sometimes we find it hard to live with the reality. We know that in June four gay men were thrown off the fifth storey of a building in the Syrian city of Deir ez-Zor. We know that in August the 82-year-old guardian of the antiquities of Palmyra, Professor Khaled al-Assad, was beheaded, and his headless body was hung from a traffic light. And we know that in recent weeks there has been the discovery of mass graves in Sinjar, one said to contain the bodies of older Yazidi women murdered by Daesh because they were judged too old to be sold for sex.
We know they have killed 30 British tourists in Tunisia, 224 Russian holidaymakers on a plane, 178 people in suicide bombings in Beirut, Ankara and Suruc. 130 people in Paris including those young people in the Bataclan whom Daesh – in trying to justify their bloody slaughter – called 'apostates engaged in prostitution and vice'. If it had happened here, they could have been our children. And we know that they are plotting more attacks.

RH: The attacker in Sousse, Tunisia had never been abroad, and was radicalised in Tunisia itself. In the case of the Russian airliner which came down over Sinai, Benn is getting ahead of the evidence. Egyptian authorities are still examining the black box and trying to recover data from the voice recorder. While security experts think that a missile from an ISIS-related group in the Sinai is unlikely, there are still three extant possiblities: a bomb planted on board, technical failure, and human error. If it were a bomb on board, it suggests again an attack from someone based in the local country, most likely on the airport staff. The ISIS group based in the Sinai claimed the attack was "in response to Russian air strikes that killed hundreds of Muslims on Syrian land". So how does Benn think that launching similar attacks in Syria will make Britons safer? As we already know, the attackers in Paris were from Belgium and France, again observing the killing of Muslims in Syria and Iraq, and seeking revenge.

BENN: So the question for each of us – and for our national security – is this: given that we know what they are doing, can we really stand aside and refuse to act fully in our self-defence against those who are planning these attacks? Can we really leave to others the responsibility for defending our national security when it is our responsibility?

RH: As shown above, the argument for bombing Syria for the sake of self-defence and national security is completely specious. FFS, do we really need to repeat the security services' conclusion that the invasion of Iraq in 2003 substantially increased the risk of terrorist attack, as tragically proven on 7/7? Surely everyone knows that? Surely Benn himself knows that? I'm beginning to think he's a bare-faced liar. He can't possibly be that stupid.

BENN: And if we do not act, what message would that send about our solidarity with those countries that have suffered so much – including Iraq and our ally, France.
Now, France wants us to stand with them and President Hollande – the leader of our sister socialist party – has asked for our assistance and help. And as we are undertaking airstrikes in Iraq where Daesh's hold has been reduced and we are already doing everything but engage in airstrikes in Syria – should we not play our full part?

RH: Britain's ruthless pursuit of imperial interests in the Middle East is as historic as France's, so within Benn's imperialist conceptual framework, this makes perfect sense.

BENN: It has been argued in the debate that airstrikes achieve nothing. Not so. Look at how Daesh's forward march has been halted in Iraq. The House will remember that, 14 months ago, people were saying: 'they are almost at the gates of Baghdad'. And that is why we voted to respond to the Iraqi government's request for help to defeat them. Look at how their military capacity and their freedom of movement has been put under pressure. Ask the Kurds about Sinjar and Kobani. Now of course, air strikes alone will not defeat Daesh – but they make a difference. Because they are giving them a hard time – and it is making it more difficult for them to expand their territory.

RH: This is a completely separate argument, and should be made in the style: although it increases the risk for UK citizens, it is our duty to stop the expansion of ISIL/Daesh in Syria and Iraq. Benn muddles them up. When you're voting to kill people, you can't write something that reads like a last-minute student essay, to be ripped to shreds by your tutor. In any case, the extent to which bombing is effective is disputed, and may have been lied about by the US government. In July 2015 there was an unprecedented mass whistle-blowing from the US intelligence community ("Intelgate"), where "more than 50 intelligence analysts at Centcom have formally complained that reports on the Islamic State and the Nusra Front — Al Qaeda's Syria branch — have been repeatedly altered by senior intelligence officials to fit with the Obama administration's insistence that the US is winning the war against the two militant groups." I wonder where Benn is getting his information.

BENN: Now, I share the concerns that have been expressed this evening about potential civilian casualties. However, unlike Daesh, none of us today act with the intent to harm civilians. Rather, we act to protect civilians from Daesh – who target innocent people.

RH: Given ISIL/Daesh's modus operandi in towns and cities, hiding in tunnels and bunkers or among civilians, this is meaningless and heartless rhetoric. He also callously ignores the pleas from civilians in Raqqa not to bomb published on Sunday in The Observer.

BENN: Now on the subject of ground troops to defeat Daesh, there's been much debate about the figure of 70,000 and the government must, I think, better explain that. But we know that most of them are currently engaged in fighting President Assad. But I'll tell you what else we know, is whatever the number – 70,000, 40,000, 80,000 – the current size of the opposition forces mean the longer we leave taking action, the longer Daesh will have to decrease that number.

RH: Here Benn culpably narrows the range of numbers for anti-Daesh Syrian rebel forces. Robert Fisk on Monday wrote: "At one point last week, one of Cameron's satraps was even referring to this phantom army as "ground troops". I doubt if there are 700 active "moderate" foot soldiers in Syria – and I am being very generous, for the figure may be nearer 70 – let alone 70,000." Benn has himself become a satrap in selecting the figures he has, and by using the ridiculous term "ground troops". If the number is 70, should we bomb ISIL/Daesh strongholds in the hope of preserving 30 or 40? How would bombing have this effect? The reality is that so-called "moderates" have been cooperating with Islamists in Syria for some time, and in some cases converting to their side.

BENN: And so to suggest, Mr Speaker, that airstrikes should not take place until the Syrian civil war has come to an end is, I think, to miss the urgency of the terrorist threat that Daesh poses to us and others, and I think misunderstands the nature and objectives of the extension to airstrikes that is being proposed. And of course we should take action. It is not a contradiction between the two to cut off Daesh's support in the form of money and fighters and weapons, and of course we should give humanitarian aid, and of course we should offer shelter to more refugees including in this country and yes we should commit to play our full part in helping to rebuild Syria when the war is over.
Now I accept that there are legitimate arguments, and we have heard them in the debate, for not taking this form of action now. And it is also clear that many members have wrestled, and who knows, in the time that is left, may still be wrestling, with what the right thing to do is. But I say the threat is now, and there are rarely, if ever, perfect circumstances in which to deploy military forces. Now we heard very powerful testimony from the honorable member for Eddisbury earlier when she quoted that passage, and I just want to read what Karwan Jamal Tahir, the Kurdistan regional government high representative in London, said last week and I quote: 'Last June, Daesh captured one third of Iraq over night and a few months later attacked the Kurdistan region. Swift airstrikes by Britain, America and France, and the actions of our own Peshmerga, saved us. We now have a border of 650 miles with Daesh. We've pushed them back, and recently captured Sinjar. Again, Western airstrikes were vital. But the old border between Iraq and Syria does not exist. Daesh fighters come and go across this fictional boundary.' And that is the argument Mr Speaker, for treating the two countries as one, if we are serious about defeating Daesh.

RH: There is actually a well-known political division between the government in Iraqi Kurdistan quoted by Benn and the Kurds of the YPG currently fighting ISIL/Daesh in Syria. The YPG consider the Iraqi Kurdistan government to be pro-imperialist, whereas they are anti- all imperialist forces, be they Turkish, Russian, US, British or French, and favour a non-sectarian, radically democratic communal state. Benn does not mention them.

BENN: Now Mr Speaker, I hope the house will bear with me if I direct my closing remarks to my Labour friends and colleagues on this side of the House. As a party we have always been defined by our internationalism. We believe we have a responsibility one to another. We never have – and we never should – walk by on the other side of the road.
And we are here faced by fascists. Not just their calculated brutality, but their belief that they are superior to every single one of us in this chamber tonight, and all of the people that we represent. They hold us in contempt. They hold our values in contempt. They hold our belief in tolerance and decency in contempt. They hold our democracy, the means by which we will make our decision tonight, in contempt. And what we know about fascists is that they need to be defeated. And it is why, as we have heard tonight, socialists and trade unionists and others joined the International Brigade in the 1930s to fight against Franco. It's why this entire House stood up against Hitler and Mussolini. It is why our party has always stood up against the denial of human rights and for justice.

RH: The Labour Party has definitely not always done that, but let that pass. This is perhaps the most spurious part of Benn's speech. The dubious, and neo-conservative, political science which equates radical Islamism (itself a number of different ideologies) with the European fascist movement is much derided. As security expert Daniel Benjamin wrote: "there is no sense in which jihadists embrace fascist ideology as it was developed by Mussolini or anyone else who was associated with the term." Back in 2008, US federal agencies stopped using the term "Islamo-fascism", as it was considered offensive, pejorative and confusing. Why is Benn still clinging to this old canard?

BENN: And my view, Mr Speaker, is that we must now confront this evil. It is now time for us to do our bit in Syria. And that is why I ask my colleagues to vote for the motion tonight.
[CHEERS]"

RH: And why, might I add, were so many Labour colleagues persuaded by this? Is it not their job to research an issue as important as raining bombs on other people, so they could be well enough informed to reject this drivel?
David Cameron's 12-point plan for the bombing of Syria, as approved by Cabinet today:
1. Bomb the enemy.

2. Backtrack a bit, and explain who the enemy are. They are ISIL militants. They are not the forces of Assad (that was 2013), though they may be bombed again in the future. They are not members of the Free Syrian Army or any other "moderates", if they exist.

3. Don't bomb any "moderates". Despite the fact that "moderates" often become hardline Islamists or work with them, we will have no trouble deciding who is who.

4. Reassure the public that no civilians will be killed. Our 1000lb precision bombs mean that any militant who tries to hide in a group of civilians or deep in a bunker will be taken out, and he alone.

5. Persuade the public that our contribution on top of US, French and Russian bombing will be the turning point in the Syrian civil war.

6. Make an infographic which clarifies the difference between good bombs (ours, French, US) and bad bombs (Russian, ISIL suicide bombs).

7. Fight the argument that all these bombs could raze Syria to the ground with maps, eg showing that the Golan Heights are really quite high.

8. Don't help the Kurds too much. They're commies in conflict with our friends the Turkish government.

9. Pretend that the pleas from civilians in Raqqa not to bomb them do not exist.

10. Use the phrase "stand shoulder-to-shoulder with the French" in every media interview. If a journalist mentions Saudi Arabia, change the subject.

11. Appoint Lord Chilcott to lead a public inquiry into the legality of the bombing, to be completed sometime after our death.

12. If there is a terrorist attack on UK soil, say the solution lies in monitoring Muslim children more closely, further invading the privacy of UK citizens, and return to point 1.
In my expirence the flowering of the indymedia networks followed by the first years of climatecamp were the high points of activist culture. The end of climate camp was the low point of activist culture, after this the drift to NGO and fashion was wide and dissipating.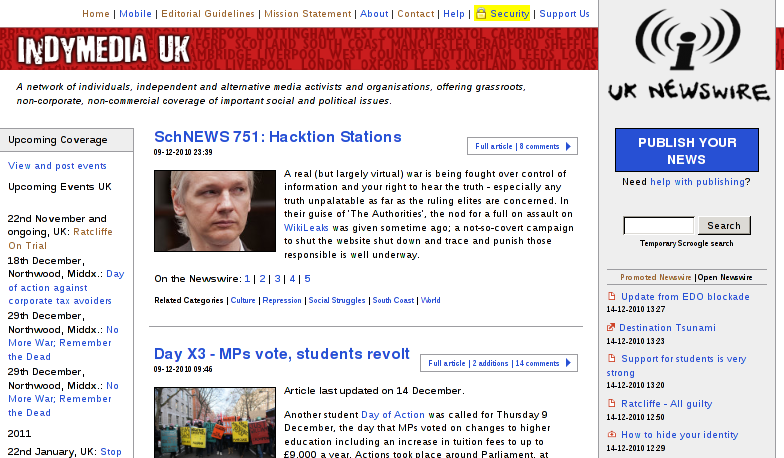 Occupy was a break in activist culture, it was the first mass "internet first" on the ground manifestation that happened disconnected to the past of activism because of the use of #dotcons tools as prime organising space. The old couture has been discredited by the failings of climate camp, the new dotcon tools had been celebrated and used well by Ukuncut etal. Were Ukuncut was a reboot of old climate camp crew, Occupy was a project of the #failbook generation in all its wide reflective madness.
Were are we now? The old left is rebooting with a broken mix of the blairite right and the Stalinist/toxic left both pulling at the radical liberal centre. Alt media content is being rebooted but the network it needs to build, to stop its drift to NGO burn out is missing. The right is ideologically bankrupt and visibly grasping, but stronger than ever.
In activism currently we are full of the biter taste of occupy and NGO worshipping of dotcoms and careerism. The working of the 21st century is potentially different to the workings of the 20th century the are groups, networks and individuals that embody this and a larger group/individuals who fight for the past century working practices.
The "certainties of the 20th century" are grasped in our frail and trembling hands, the first stage of a "network" reboot is to let go of these "certainties" one constructive path to this is to fill in the gaping activist memory hole by looking at what works and what dose not. The lost and flailing progressive alt needs foundations bridging this gap to build on.
The IS NO SHORT TERMISM HERE but the is speed and nimbleness, plenty of fun, creative motivated building to be done. Many of the foundation problems can be built in parallel as a "network" so it can happen faster than most can imagine.
"Never doubt that a small group of thoughtful, committed citizens can change the world. Indeed, it is the only thing that ever has."
UPDATE:
Am currently working on two projects to take steps to medate the issues I ouline here:
The Witches Cauldron - open activist archive
A DRAFT (copy and paest of a chat useing realmedia as an example)
this needs a edit for sense, but my back ach dusent alow this so out it goes
We need an Executive summery of why visionontv failed.
- we didn't de-brand fast anufe
- we went nimble anufe to be relaverent.
its going to be a struggle to reboot grassroots media with out highlighting both of these
its fine for brands to be "periphery"
the is no excuse for lack of nimbleness.
We built generations of p2p tech against the flow of failbook and its activist NGO takeup.
Now - we can only aggregate YouTube videos
yes but that's ok, in the interim, As our tools are broken
If we could spread the realmedia WP install up this would be easer to explain the p2p side of OMN
With out working tools - we can only build proxy sites to hold space.
Youtube play's list are one
Q. The question is: what can people do NOW
Its a chicken and egg - we have to use the tools we have while making clear the tools we need.
Yes YT embeds are a tool we have – Q. but they should not be attached to the 1400 video account of a particular media project
A. Get embeds from the visionOntv noid of the OMN with an explanation why is far from perfect.
Q. it looks like we're doing it to promote our work?
OK this is interesting
we're not, but that's what it looks like
need to avoid the whole branding thing for this
in terms of the interface, what's the difference between an embedder (of an aggregator) and an aggregator - is it a completely different UI or a different use of the same UI
Q2: If I as an aggregator like RealMedia's agregation, it would be natural to merge the two - or why don't I just add to RealMedia's? In other words, isn't there a desirable and natural tendency towards centralisation?
Other way up - as an aggregator, I like RealMedia's aggregation, minus their videos about endangered animals, so I take those tags out, and become a subset
Then I add a few tags which I think are missing, creating a new and I think better aggregator
but Real Media has a publicity budget, so no one knows about mine....
etc etc etc
Yep to last one, you can create a new aggregated but each stage in the line adds a delay. So Realmedia embeds will update before your one.
Its also based on trust - which you gain by doing.
Why trust a site that is slow and dues not add anything
The can be a badging syteam
I am adding stuff - taking away dross IMHO and adding content
Our site has 233 embeds, imports 124 feeds and exports 23 feeds etc
why don't we have mother ship that any aggregator has access to?
The new site will have lots of low numbers.
But the same content, 10-20 min to a few hours later.
Q. so the first and biggest always wins?
Only if the put huge amounts of real value into tageing and moderating.
Which had s work. With out that a smaller sight will be faster and better.
why wouldn't i want to better use my time by helping RealMedia's or mother ship's aggregation rather than creating my own?
You can - the is a tendency to specialise thus the will always be a better site than general news sites if you are pashernate (and peopulr who put the work into aggregation will be pashernste)
So Realmedia will likely stay a nich site for its subject - I can't read it for example.
but why don't people build their aggregation inside another aggregator?
The OMN has a "market" mechanism of checks and balances built in. Will be very hard to stop geeks "improving" these out...
They can
If the aggregate allows it users (embeds) to retage with no or fast moderation then you can build a aggreater inside an aggreater. Just like we can post our stuff to failbook and theurtube.
If your passionate build your own.
The is a server/bandwidth/moderation cost for every RSS feed you add.
Q. archive.org has a centre - how is OMN different from that plus some aggregation tols?
so it's about shared cost
And trust and shared passion - the whole is bigger than the parts.
Its a leep for the verticals... Thus the resistance.
Like the open internet
"a leap for the verticals" - Im clearly trying to establish "a leap into what exactly?"
(btw i find realmedia's content incredibly dull as well!) but i was hyposthetising
ok im going to assume for now that this can't be explained
This n the 4 opens...
Which is the opens that the regional internet was built on
Original
Portals are pre web.
Education
...
Pre web is a failed strategy...
no one is thinking pre-web
Q. ok the data soup - stuff gets in there by api?
so it's add your stuff, and get the ability to filter out other peoples'
ok the aggregator closest to source is best....
closest to the general soup
Have been thinking about this
People think the is a centre yo the OMN that will look after things. The is none.
You are Completely responsible for who you link to and the data. The is no centre to take care of you or this.
The is massive redundant linking and data storage.
The is roll-back if things go wrong
You can put a feed on moderation if you aren't sure. But this will increase your workload and slow your updates so better to be sure.
Its a trust network.
Trust and risk are yours. The is no centre to meditate this trust
If you can't build trust then you will have a uphill struggle making aggregation work for your media project.
TRUST
This is the hard jump for verticals.
Imperfection - is. Roll back in a complete failer or retag for a miss step.
Things happen you react to them. Rather than you reside first before things happen.
Its the original IMC of publish then moderate.
Of courses "verticals" can still use it, but they will be slow and plodding.
Just put everything on "moderation" and don't trust.
Or if your sensible a mixture of the two.
A good site will link well and let the data flow. Tweaking here or their. Unlinking if trust is broken and not addressed.
I find it hard to understand the verticality view point thus dearly directly address it.
Hope the helps, interesting for me to glimps the vertical view
To recap verticals can and will play a roll in the OMN but the exciting sites will be the ones that let the data flow through good linking based on trust.
The latency of layers of aggregation will push sites to specialise in subject - the best sites will be a group of trusting focused sites that each specialise.
Feeding a trusted middle site.
Top sites are easy to build but very hard to add value.
Bottom subject sites are harder to build and add a lot of value.
Easy to add value.
The latency is important as its the driving force to link to the site closed to the bottom you can trust
You can have a easy to site that has perfect content but is late to update.
Or you can have a fast updating middle site on a subject.
I would look more at middle sites
My mum would look at a top site.
Etc.
So to recap the skill in running an aggreater is to link as close to the bottom as you can trust. For you core news feeds then maybe get tag based feeds off middle sites to widen your coverage into full news feed.
A valence of building trust/handling/moderation.
Balance
Archive.org is a top down categorisation of knowledge in a signal place. The is little flow.
It has no need for trust
Its an archive not a news site.
Do you rember the crap conversations we had about the hive website were they got rid if the network and whent vsck to a signal site. That's archive.org were is the value of a network, its hard for verticals to see.
...
On the subject of the OMN YouTube account - somebody would be responsible.
Q. With your top, middle and bottom sites, you're implying a topography, which can be drawn as a graphic, presumably
It's a hierarchy, without value attached to different ranks - hmmm
Yep the value is nebulous, just like the original internet nobody thought it would work because it had NI identity, no security and was completely based on open trust
Much like early indymedia
Etc.
You could explain the projecting a way that verticals will understand. With moderation though out ect.
No centre/nobody responsible/built on trust
Its a good idea that's needed and will likely work well
Its hard to understand that the OMN is just open standards... Everything eles is up to the users/producers. The OMN dose/is nothing.
...
The outcome is a framework for linking, taging and outreach.
The framework is just structure, no content.
Q. so where is the content soup?
Yes it shapes how people cooperate. It Push greed and selfishness to the edges as much as it can
Q. what does?
The framework bounded by the 4 opens.
Its stored across hundreds of sites around the work, its backed up in many university's, archives and on your local hard rive if you wont it.
World (thousand, hundreds of thousands) and some one in this will keep a surviving backup. Thus nobody is responsible to do it. Though they can and will because that us what some people do
Its KISS
Couldn't be simpler
Has complex outcomes though...
Just like the internet.
Torrents already do this to an extent. But as the content is mostly stolen nobody keeps it.
Thus is fades.
This is of courses the text content and meta data. The video/audio/images
Would be more complex, a bit more "centralised" but still completely diy.
Can boot strap by yseing wikicomns and aracive.org so can be put to back of mind for s year or two.
Because storing lots of text in a database is easy. Big media needs more work.
Not impossible but hard to boot up the project and deal with it in the same diy way.
So aggregation is text and meta data. Media is still stored on original servers. Can build sine simplistic caching in to keep it running and scaling at boot up as needed.
That become a issue if we are very successful, nice problem to have.
Media storage of video/audio/images are left "more centralised" in partner silos - wikicomes/archive. Just to start otherwise we gave bug technical issues of scaling at the front end.
Keep it KISS
Q.
For example archive can seed torrents so can be the bases if torrent streaming. But that's later. Just use youtuve vimio embeds to kuckstat. Don't make people jump to meany hoop to soon. And all thus stuff can run in parreral anyway.
KISS
OMN is much less centralised than torrents. But we keep media in cirpurate silies and friendly NGOs to help boot up.
In that the media will be more "centralised" than torrents
Can do torrents at the same time but s distraction for me.
This idea is based on computers and storage getting cheaper each year so people can host big databases. This is what's happening.
Thinking. The most underplayed part of the OMN is the 4 opens...
The rest is just KISS RSS aggregation
Q. How do you stop porn appearing on your site. You link to a site you trustvnot to put porn on your site
...
Hard sell... But visionOntv has and real media have both proven it can be done etc.
Planing a trip - On Sunday.
Forcast is - Fog clears 9-10am some mist 11 low wind
low tide at Sheerness 9.36am
- we should leave 30-60 min before low tide to clearer the Medway.
High tide at London bridge 15.19
- best to arrive before the tide turns
This gives us 7 hours which should be fine no rush.
We will have to leave between 8-9am earlier better so we ain't rushing at the other end. So the first hour or two might be in mist or fog (not good) we can navigate fine by GPS and the radar reflector will make us visible to other boats but we are limated to AIS to see them. We can use the GPS to stay at the edge of the shipping lanes.
Talked to the harber master and the local marien police they both think we will be fine if we stick to the edge of the shiping lanes.
We are booked into Bow Lock between 3-4pm
TODO in the morning for the trip
* mount radar reflector on the roof
* Tie down solar panels
* check anchor chain rope is untangled
* shorten flue
* check tie down wood on roof
* wipe windows
* ratchet stove in place
* train crew in roles and equipment
* lifejackit and man overboard
* pump bilges (done)
UPDATE
We started the trip on time in heavy fog, navigating by GPS and AIS was fine. though when we got into open water we had a fog related navigation panic and found our self doing loops before we realised this.
As the day went on the fog did not clear, come 12.00 we started to worry, agreed to drop the anchor just before Canvey island and wait for it to clear. Called VTS to tell um we were anchor, they had been watching us on radar good to know the radar reflector was working.
An hour later still no sign of it clearing we had to make a decision to push on or stay anchored. The further we went in land the more chance the was that the fog would clear so in the end we tried to pulled the anchor up, It was stuck, after tiring a few times we shortened and re-tied the anchor rope so that it was near vertical then gently powered over the anchor to free it, this worked with out fouling the prop.
We gave the job of steering to a boater who hadn't had a go yet so that he could get used to it before the channel narrowed. he lost control I had to take over after circling 5-6 time and it took me 5 minutes to bring the boat back on courses. Its hard to navigate/steer a courses with no visibility, you soon learn to steer by compass Bering.
Called VTS to tell them the situation they were helpful with radar directions, at one point they called us to tell us we were heading starate for a line of groween - that soon loomed out of the mist as we turned away from them.
We headed out more into the centre of the channel using AIS to tell us when a big ship was coming past, we would scoot as far as we could into the side. the biggest one came up behind, was a 33,000 ton bulk carrier, its fog horn BUMING lowed behind us was disconcerting - when it finally went past we were hit by 5-6 2M waves from it's wake that made the boat jump and everything crash about inside, no harm done.
It was nearing 3.00pm and the turning of the tide, we would have already missed the tide window for Bow Lock that we had booked so called CRT to cancel it. Limehouse lock was closing at 4.30 so it was looking like we could not make that one. If we continued past the tide turning we would be lucky to make 2-3 knots punching the tide so decided to drop anchor agen just past Deapford Creek. On the map the was a anchor point there.
Making sure the were no big boats on the AIS we crossed the channel to find comeing out of the fog a line of yachts anchored up there with 3 empty buoys on the end we missed the first and tied up to the second, that was us for the night.
In the morning the fog still had not cleared so we waited for the tide to turn at 12.00, past 11.00 the fog started to lift, we slipped the line for the buoy and it was easy the rest of the way to Limehouse in light mist.
RSS
(Opens New Window)
This is the first stage of the Open Blogging Network. Currently you have to have a blog on the OMN server, but a bit of programming will enable any blog (vier a RSS feed) to be a part of the network.
Don't be a spectator, be part of the conversation. If you post to your blog on your public page, it is automatically syndicated out to twitter, facebook, and any sites that embed the news aggregator. Just add the relevant tag when you publish (such as frontpage, grassroots, globalviews, friendlyfire, plugandplay, headmix).